I have received information and materials from ©Johnson & Johnson Consumer Inc. 2017. The opinions stated are my own. This is a sponsored post. #ForBetterTomorrows #BetterTomorrows #FallBack #CollectiveBias
---
With November fully upon us, I've begun to wrap my mind around the fact that I have been a mother for almost two years. Sometimes I swear I took a deep breath, blinked and the time just vanished! But in this time, short (or long) as it may have been (depending on whom you ask…) I have been given some great advice and I have definitely learned a few things.
There is one thing, however, that I feel like no-one ever mentioned to me in my pre-baby days and that thing is… motherhood hurts!
And no, I'm not talking about the pain of childbirth… or the pain of the initial healing. We all know and expect there to be pain there.
I'm talking about all of the aches and pains that come after that.
Because as a mom of two babies under the age of two I am constantly on the move. Carrying, rocking, changing, bending, dancing, chasing… you name it, I do it.
Usually holding at least one small human as I do.
The backaches, and sore feet. The aching wrists and tight shoulders that come from all of that running, jumping, wearing and piggybacking are killer! The minor pains that come from literally ALWAYS being on your feet, whether it be doing 87 loads of laundry… Or running a vacuum through the house for what feels like the 1,000th time…(that day!) are enough to drive a mama mad!
Seriously, no-one warned me about this!!
And while these pains may be minor, they are definitely enough to keep me up at night. And as many of you know, with the problematic sleeping habits of my youngest, I can't afford to miss one single, solitary second of sweet, sweet sleep!
In steps TYLENOL® PM!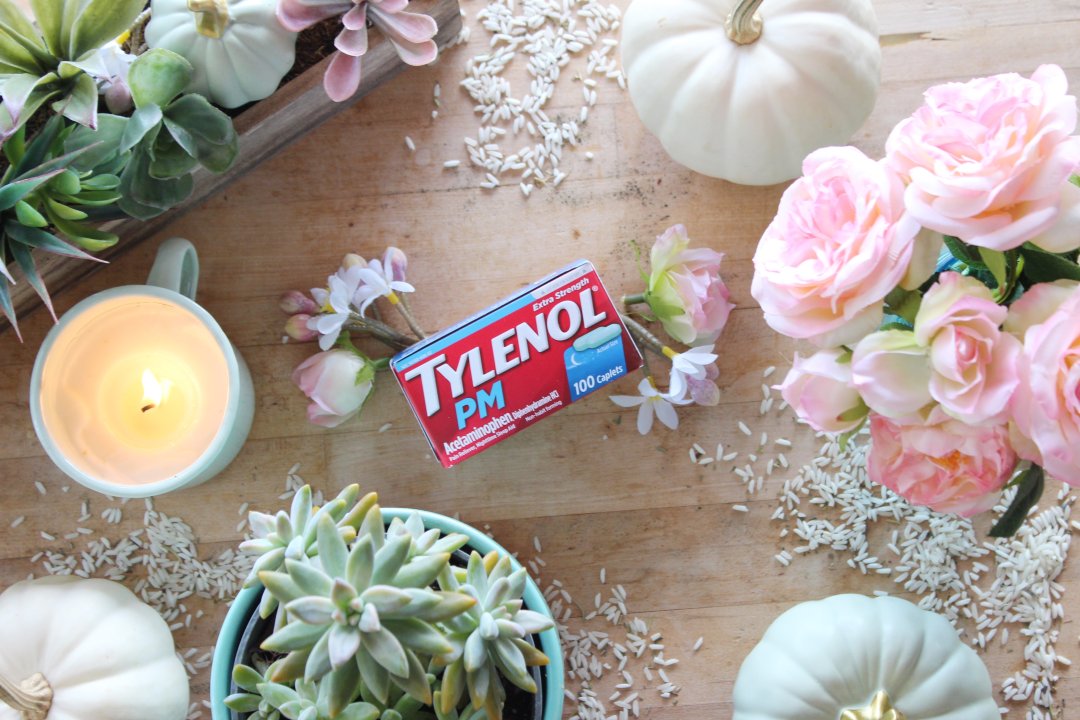 (Please note that you can purchase TYLENOL® PM by hovering over the image above!)
It is honestly exactly what I need to help me relieve those minor aches and pains in the evening and help me drift off to sleep. That way, I can wake up ready to tackle whatever else motherhood throws at me!
So last night after I put the kids to bed, I popped my heating pad in the microwave (tutorial below!) took the recommended dosage of TYLENOL® PM and felt all of those pains slipping away so I could drift off to sleep. And it was honestly what felt like the best sleep I have gotten in months!! (Please remember to use TYLENOL® PM only as directed on the product packaging.)
And for me, one of the best things about TYLENOL® PM is that it is non-habit forming. (Which is a HUGE deal considering the amount of addiction that runs through my family tree.)
Also, as I mentioned above, I love to use my lavender and rice heating pad in the evenings and am going to share my simple step-by-step tutorial to show you how to make your own right now!
---
Let's start with what you are going to need:
A Large Bowl
A Large Cup
A Spoon
About 2 lbs of White Rice (I like to use Jasmin, but mostly because of the princess… you can use any kind you want!)
About 1/4 cup Dried Herbs (Lavender is my go to, but you can really use anything that you have on hand that you enjoy the smell of!)
Lavender Essential Oil (To help boost the scent if A. you can't get the dried herbs or B. they aren't strong enough for you.)
Two Square pieces of Fabric (I usually just go to the Salvation Army and buy a shirt in a pattern I like and use that when I need fabric! Also the fabric should be about a foot long on each side.)
No-Sew Ironing Tape (You can find this at almost any crafts store for about $3 for a roll.)
An Iron
---
Step 1: Pour your rice, herbs and oils into your large bowl and stir everything together well. Place to the side.
Step 2: Lay out one of your square pieces of fabric. Have the side you want to be seen facing upwards. Place strips of the new-sew ironing tape along three sides of the square. Make sure all of the tape is overlapping, leaving no spaces as seen in the photo. Leave a little room between the tape and the edge of the fabric.
Step 3: Lay the other piece of fabric on top of the first. Make sure for this piece that you lay the side you want to be seen face down. Be careful that you did not move the pieces of no-sew ironing tape. Then run a warm iron over the fabric, focusing on the areas where the tape is. Be sure that your iron is hot enough to activate the no-sew tape. (Please double check the instructions on the packaging of the tape you purchase.)
Step 4:  Once everything has cooled and you are sure the tape has worked properly, turn your newly made "pouch" inside out. This will allow the seams to be on the inside where they will no longer be visible. Run the iron over this a few more times again focusing on the area where the tape is just to be sure.
Step 5: Put your fabric pouch into a large cup and spoon the rice mixture in until full.
Step 6: Carefully lay the pouch down flat, without spilling the rice out of the top opening.
Step 6: Carefully fold the cut ends of the opening inwards and press them quickly with the iron to create a crease and hold the fold easily.
Step 7: Put a line of no-sew ironing tape across the entire top opening in between the two fabric layers. For this step I do multiple pieces of tape to ensure it is a very solid closure. I do this to make sure none of the rice can slip through. Once you have the pieces set properly iron to seal.
Step 8: Place your completed heating pad in the microwave. Run for increments of 30 seconds until the desired temperature is reached! (I usually put mine in for about 60 seconds.)
And Ta-Da! You're done!
Combine this heating pad, with TYLENOL® PM and you can kiss those aches and pains goodbye for the good nights sleep that you deserve!
You can find TYLENOL® PM  in the pain relief section of Walgreens and right now they are partnering with Walgreens. The TYLENOL® PM 100 count pack is available for $11.99 ($1.50 off with your Walgreens card. This offer is valid from 11/5-11/11)
To learn more about TYLENOL® PM please check them out on Facebook and YouTube.
And I'd love to hear about any questions or any advice you guys have for helping with those minor aches and pains of motherhood in the comments below!
---
TYLENOL® PM contains a pain reliever and nighttime sleep aid. ©Johnson & Johnson Consumer Inc. 2017 The third party trademarks used herein are trademarks of their respective owners.